New Sponsor+Christmas Giveaway
It's almost like Christmas has arrived early at Sweet as a Candy, just check out of the amazing giveaway we have this week! From the heavenly gorgeous new sponsor Bolondon!
You have the chance to win this gorgeous bag! I'm a little en
vious because I saw it and it's sooo beautiful!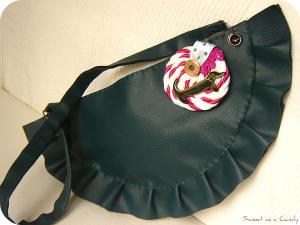 – Tell us about your shop, when did it open and why you decide to become a shopgirl?
 After a working experience in London I decided to open a shop where looking for new brands, promoting a positive and funny fashion mood, and organizing little events (as the Valentina De Meo's photos show, and this new Vintage Selection I've told about on the blog). I think London is an example of open minded fashion and creativity, but I choose brands from everywere ( I even like to promote Italian hand-made design, and foreign brands that inspire me). The shop opened in may, and for me it's just a beginning of a bigger fashion project I have.
– What about this beautiful bag?
This bag is made by Silvia's think (http://silviasthink.blogspot.com/, http://www.myspace.com/silviasthink ) and it's an example of Italian 100% hand-made. I like this designer for her ability in using even low materials as building ones. She uses to say that only people who are uncreative need always rich materials, and this is a very current essay because we have to learn to recycle and  exploit raw materials in the best way we can, if we want to preserve our planet. Moreover, I think it's important to match famous brands with new ones, and this is something unfortunately very unusual in Italy, where these new great designer hardly stand out.
The bag in a green bottle colour it's called Moon Bag, and it's part of a collection where every bag has her own circle decoration. This one has a very cute pin with an old decoration basset found looking.
Anyone who leaves a comment on this post during the next 7 days is automatically entered in the draw!
For an additional entry, you can blog about my giveaway, just leave a comment with the link!
Giveaway ends on monday, december 14 at 8pm(local time).
Winner

to be announced on Tuesday, december 15!
~ If you have a company or an online store and you desire to allow Sweet as a Candy to host your giveaway, feel free to send me an email at federica.piccinini@gmail.com ~